Joint Degree Programs
The Tuck School offers three joint degree programs in health care.
MD/MBA
The Geisel School of Medicine and the Tuck School of Business offer students an opportunity to pursue combined MD/MBA degrees that can be completed in either five or six years. In a time of tremendous change in health care, there is a growing need for leaders with expertise in both medicine and management. This joint-degree program is designed to open pathways for leadership roles in diverse areas and industries such as pharmaceuticals, biotech, entrepreneurial ventures in health care, governmental health programs, health related nonprofits, hospital and health services, health care policy formation, and medical school administration, to name a few. Candidates for the joint degree must complete the separate admission and financial aid application processes at both the Geisel School of Medicine and Tuck. There is no formula for admission to the combined program. Decisions are based on a combination of following factors: academic excellence, leadership ability, accomplishments, interpersonal skills, and diversity. Although almost all Tuck students have work experience before they enroll, this is not a prerequisite for admission to the joint-degree program. For more information on the MD/MBA Program, please visit the Geisel School of Medicine MD/MBA Program overview.

Jessica Morgan highlights her transition from investment banking to health care and how the joint MD/MBA degree helped her develop the skillset to implement and execute strategy in the health sector
---
MBA/MPH
The MBA/MPH joint degree is offered through the Tuck School of Business and The Dartmouth Institute for Health Policy and Clinical Practice (TDI). The joint degree program prepares graduates to take on leadership positions in the health sector in both the private and public sectors of the health care industry. The MBA/MPH program brings together the best of leadership and management education with the best of public health research and practice.
Student Interview with Katharine Head T'13 TDI'13
Katharine Head describes her experience in the joint MBA/MPH degree program.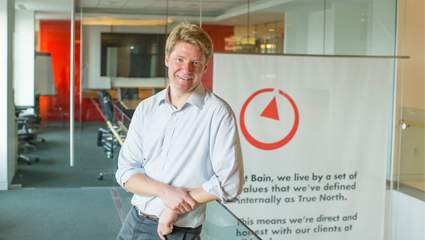 Career Stories: Michael Cacchio, MBA, MPH'15
A dual-degree graduate from The Dartmouth Institute and The Tuck School of Business, Michael Cacchio is a consultant at Bain & Company, where he performs diligences for investors on a range of companies across the health care ecosystem. Read more
---
PhD/MBA
The PhD/MBA joint degree program offers the unique opportunity for PhD students at Dartmouth College to finish off their training with management education. The joint degree aims to produce individuals who are not only thoroughly trained in a scientific discipline but also possess fundamental business and entrepreneurial skills. The program is currently only available to PhD students at Dartmouth. Students must apply to and be admitted to the MBA program. The PhD experience will be counted as post-bachelors degree work experience. Matriculating students must enter with the regular Tuck class in the fall and complete the required first-year Tuck core curriculum. Students are expected to participate in an internship during the summer between their first and second Tuck years, to reinforce the MBA experience.
Courses taken during the PhD program will be counted as the equivalent of one term's worth of electives. While application and admission to the MBA program can occur at any point while enrolled in the PhD program, it's recommended that students apply in the third or fourth year of their program. Students are encouraged to meet with advisors for the PhD/MBA Program. It is important that PhD students show strong academic ability as well as demonstrated potential for leadership, and they should be able to articulate well why the MBA degree will help them achieve their goals.